1. Creating a new Antenna Model
When you launch cocoaNEC 2.0, you will be presented with only the Menu Bar. To create a new antenna model using the spreadsheet interface, pull down the File Menu and select
New Model
(
command-N).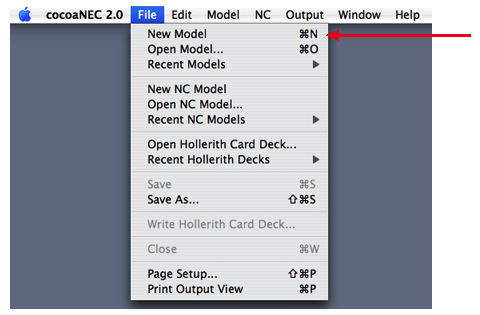 cocoaNEC will create a new spreadsheet window with the title "Untitled Antenna-1".
Name your antenna model by selecting
Save As...
(command-shift-S) item in the File Menu. When the
Save antenna model
dialog window appears, enter "dipole" into the
Save As
field, and choose the Desktop as the location for the file, as seen below.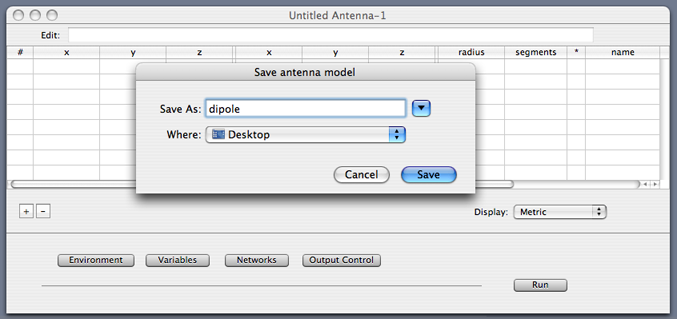 Click the
Save
button in the dialog window to rename your empty model to "dipole." This will create a model file called
dipole.nec
on your Desktop. The title bar of the spreadsheet window will also change to "dipole."
At a future date, if you want to use the same antenna model, select
Open Model...
in the File Menu and direct the open file dialog to this model file. If the model was used in the recent past, you might also find a convenient link to it in the submenu of
Recent Models
in the File Menu.
At any time, you can make a copy of a model you are working on by selecting
Duplicate Model
in the Model Menu. This allows you to temporarily branch off the design to make some experimental changes, instead of making changes to the original model.
Next: Creating Variables...